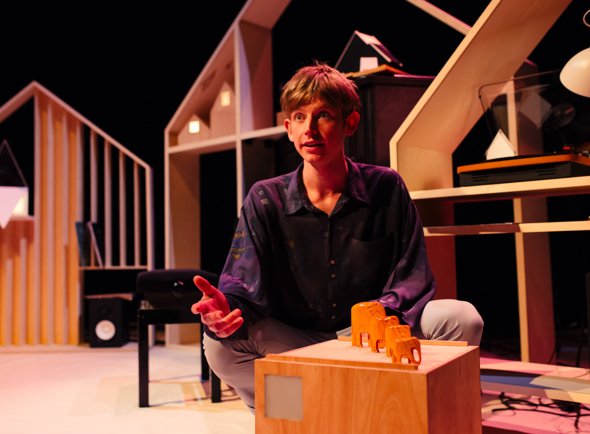 "With two turntables, a German fairytale, performance poet Toby Thompson creates a beautiful show"
The Egg presents
I Wish I Was A Mountain
By Toby Thompson, based on Faldum A Fairy Tale by Hermann Hesse
Written and Performed by Toby Thompson
Direction and Dramaturgy by Lee Lyford
Designed by Anisha Field
On the day of the famous annual fair, the town of Faldum receives an unexpected visit. A wanderer rides into town and offers to grant a wish to anyone who wants one: 'what would you wish for, for what would you wish'. Getting what you want can be dangerous, as two of the townsfolk discover; one disappears into his own melody and the other becomes a lonely mountain.
I Wish I Was a Mountain uses rhyme, jazz music, and just a smattering of metaphysical philosophy to boldly reimagine Herman Hesse's classic fairytale. Do we really need the things that we need? What do mountains feel? How did time begin? Adults are kindly requested to leave all answers to these questions at the door. Children, come as you are.
"I Wish I Was A Mountain is an exquisite escape from modern life, offering life lessons that sing through the ages" - Irish Times ★★★★★
"...a wonderful gift for language, a deep sensibility and a penetrating sense of perspective." - Sir Ken Robinson.
"This is a fairytale that doesn't so much end happily ever after as ask us how the "ever after" affects our daily lives." - The Guardian
Produced with the support of Travelling Light Theatre and Imaginate.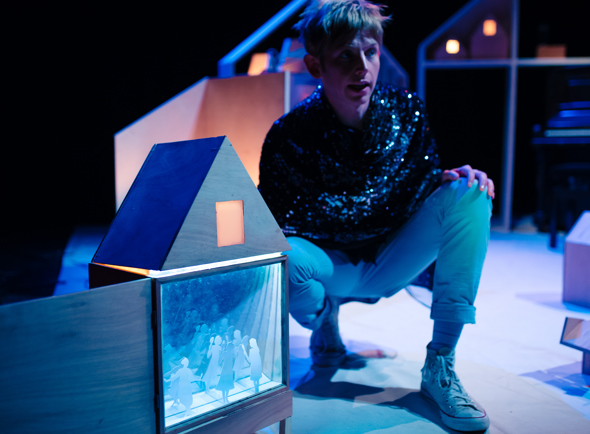 "He shares this world so generously that it will be yours as soon as you hear it. "
Technical Specification:
Age: 7+
Running Time: 45 minutes
Stage: 5m x 6m
Get-in: 5 hours plus a pre-rig
Get-Out: 2 hours
Running time: 45 mins
Sound: Q Lab system and desk provided by the company. Onstage sound equipment including vinyl players, mixers and speakers, provided by the company, are a crucial part of the fit-up.
Piano: Venue to provide a tuned upright piano; if not possible a digital piano
LX: There are on-stage practical's. A lighting plan will be sent in advance.
Venue to provide competent technician. If the LX and
SFX cannot be operated from the same place, then an additional
operator is required.
Touring Company: 1 actor and 1 stage manager